After an early career in social work, I became an instructional designer, working mainly in the sciences. I have an art background as well and have done various forms of artwork throughout my life, focusing on photography in recent years. I am now retired and take on freelance projects from time to time.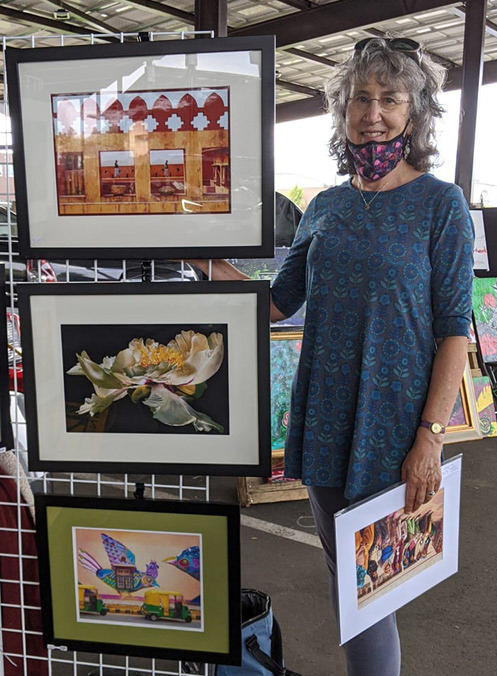 PHOTOGRAPHY
The scenes that excite me and fully capture my attention typically have vibrant or interesting colors and shapes. My challenge is to create compositions that capitalize on those elements. I am particularly drawn to shooting flowers, old equipment, and buildings. My favorite photographs (mine and other artists') lie in the space where realism and abstraction intersect, reflecting a life-long interest in abstract art.
I have worked in and traveled throughout Africa and Europe, lived in the Middle East, and traveled to India. This has given me terrific opportunities to photograph different cultures and people. I particularly like photographing people at work. 

I live in Colorado and often have my camera with me when hiking, cross-country skiing, and snowshoeing. I love the desert and enjoy taking photographs of the Southwest (the more abstract, the better).
Note: All images on this site are for sale in various sizes, either matted or framed. Please contact me through the Contact page for pricing information.
INSTRUCTIONAL DESIGN
I spent most of my career working at the University Corporation for Atmospheric Research (aka National Center for Atmospheric Research) in Boulder, CO. I worked with scientists to produce online educational programs about weather and climate for an international audience of university students and faculty, forecasters, and other scientists.  
The most fascinating part of my job was co-leading the African Satellite Meteorology Education & Training (ASMET) project. For 21 years, I guided African meteorology instructors in developing online educational programs aimed at improving weather forecasting on the continent. I made numerous trips to their training institutes in Kenya, Niger, South Africa,  La Réunion, and Morocco, which fed my interest in different cultures and love of travel. 
GRAPHIC DESIGN
I have created user interfaces and graphics for online educational programs, and promotional materials for non-profit organizations.